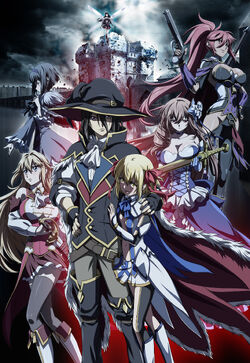 Ulysses: Jeanne d'Arc and the Alchemy Knights (ユリシーズ ジャンヌ・ダルクと錬金の騎士, Ulysses: Jeanne d'Arc to Renkin no Kishi?) is a Japanese animated television series adaptation by AXsiZ is scheduled to air in October 7, 2018. The series is directed by Shin Itagaki, with Ryunosuke Kingetsu handling series composition, Jouji Sawada designing the characters, and Taku Iwasaki composing the music.
Synopsis
During France's Hundred Years' War with England, Montmorency, the son of a noble, immerses himself in the study of magic and alchemy at a school for knights. However, after France's defeat at Agincourt, the school is disbanded and Montmorency is forced to flee. While on the run he meets a miraculous village girl named Jeanne.
Episode Covers
Episode List
Cast
Ryota Ohsaka as Montmorency
Yuko Ōno as Jeanne d'Arc
Hidenori Takahashi as Xaintrailles
Hisako Tōjō as Astaroth
Junji Majima as Alençon
Manami Numakura as Richemont
Saori Ōnishi as Charlotte
Shizuka Ishigami as La Hire
Yūki Kuwahara as Batard
Yūki Takada as Philip
PV
Posters
Staff
Director: Shin Itagaki
Series Composition: Ryunosuke Kingetsu
Music: Taku Iwasaki
Original creator: Mikage Kasuga
Original Character Design: Meron Tomari
Character Design: Jouji Sawada
Sound Director: Ryousuke Naya
Trivia
Links
Community content is available under
CC-BY-SA
unless otherwise noted.